Reminiscences of Colin Fraser
Free Trader of Fort Chipewyan
As related to George Pendleton of the Hudson's Bay Company, Oct. 1938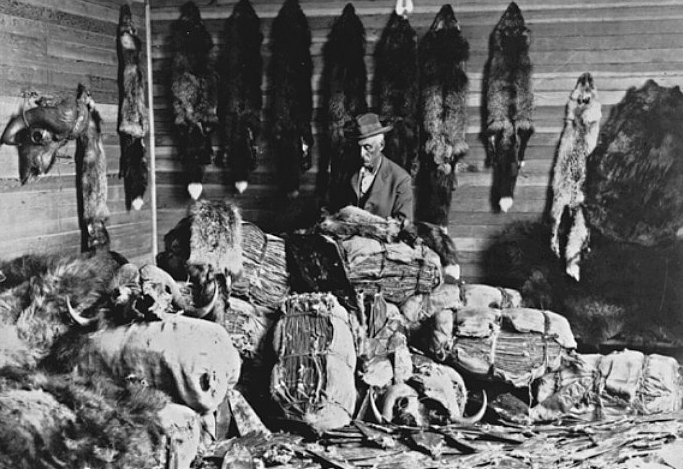 I was born on December 15th, 1849 at Jasper House, which was, in those days but a small trading post though an important link in the great transportation system which reach from Hudson's Bay to the Pacific coast. I was a child and son of Colin Fraser who was the officer in charge of Jasper House. Few men in his position in those days were better known than Colin Fraser, the personal servant and piper for many years to Sir George Simpson, the governor of the Hudson's Bay Company in Rupert's Land. My father was a Scotsman of the old type, rugged, very shrewd in his dealings with the Company's customers and an old fashioned Presbyterian. He was born in 1807 and brought with him to Canada in 1827 a complete highland costume and two sets of bagpipes. I still possess one of the latter, but the other, together with the Scottish dress became the property of my eldest sister, who left it to her husband, William MacDonald, and through him it passed out of the family.
My father died suddenly on April 1867 and with his death came a breakup of our happy family circle. But before this occurred, I had led the life usual among the fur traders of that day. There was not much that I could not do around the Post. Early in life I had become used to handling horses and dogs, and familiarity with the latter got me much work in life. Of course, as my mother was a Cree Indian, I was almost born to the use of the Cree tongue and this too had been a wonderful asset to me. During my early days at Jasper House, I met many of the Officers of the Great Company as they passed through on their journeys to and from the coast. But my father had met also many of the big figures of the day in the Western Country. Of servants on his rank, few have been mentioned oftener than he in published records of travel. Among the writer-travellers speaking of him were Ermatinger, Father DeSmet, Paul Kane, Archibald MacDonald, the Earl of Southesk and Viscount Milton. Most of those people spoke of days before I entered into this work, but of them, my father had the liveliest recollection.
After spending some years at Jasper House, my father was transferred to Lac St Anne, where he remained until his death. Here in 1863, he told Viscount Milton and Doctor Cheadle, as narrated by them in their book 'The Northwest Passage by Land', that he had been in the country 38 years, had not seen Fort Garry for 30 years and for 15 years he had not been further from home than Edmonton which was 40 miles away. Besides these visits to Fort Edmonton on the company's business, he went there for a long period every New Year when he was in great request for his skill as a piper and in those days the festivities of that holiday were notable. I might mention here that my father was buried in the cemetery which was formerly at the rear of the present Bank of Montreal, Edmonton in the graveyard of the Methodist Mission. When that vicinity was subdivided into town lots, I undertook the melancholy duty of myself exhuming the remains and re-interring them in the new cemetery - now Edmonton Cemetery, where the grave is marked by a stone erected by myself. After my father's death in 1867, my mother, myself and the younger children went to Long Lake, six miles west of Edmonton, where we built a log house and lived upon such produce as we raised ourselves. After a time I went into Edmonton and worked under Chief Factor Christie. One of my principal duties was to care for and drive his team of dogs of which he was very proud and I still boast of the skill with which I handled his team. I often went with a dog team eastward across the prairie, trading for furs and buffalo robes, and one task for which I often was selected was to out manoeuvre the fur traders who came into the country with whiskey. On one occasion, I raced Don Noyes, a celebrated character, to Rocky House and all he could secure on his arrival was a couple of cases - I had everything else.
I can enumerate here but a few of the people I met in these days, as my memory is not so good as it once was and dates, especially, are rather confused. I often drove Chief Factor Hardisty and Chief Factor McTavish of Fort Garry and Lawrence Clarke of Fort Carlton who was a great friend of mine. I remember well the arrival of the first permanent missionaries among them Father Lacombe and the Rev. George McDougall. Nor can I forget the terrible epidemic of small-pox in 1870 and the care we took to avoid contact with the victims. The arrival in Edmonton of the first member of the R.C.M. Police under Colonel Jarvis is also well remembered. One vivid recollection is a fight outside the palisades of Fort Edmonton between marauding Blackfeet and Cree from the North; the Crees killed two and wounded two of their enemy and the conflict was ended by the intervention of Mr. Brazeau and John Cunnibgham.
After some seven or eight years employment with the Hudson's Bay Company I left the service to take up land. I selected a piece of some 180 acres and on it built a long house which stood on the site of the present Central Police Station and Fire Hall near the junction or what is now known as Jasper and Fraser Avenues. The latter street was named after me. I sold the property later to Mr (name forgotten) of Winnipeg. I got the sum of $10, 000.00 for my share, but Richard Hardisty told me later that the gentleman who handled the deal got a similar amount as his share of the transaction. With the money so received, I entered into a partnership with Messrs. Bannerman and Stewart of Winnipeg to trade on Lake Athabasca. This commenced my first acquaintance with Fort Chipewyan, which was to be my home for the next forty years or more. The first venture was far from a success for me anyway, but having once started as a free trader, I remained in business. I have worked hard in the north country and built up a connection with the Hudson's Bay Company both and after my adoption of the career of a fur trader which had always been a happy one. I have lived a long life and will say here that I do not know anyone who is or has been an enemy of mine. I have had, all my life, a faculty of establishing friendships of the best kind and that is a great thing to boast of.
It did not need the recent visit with the Governor of the Hudson's Bay Company to Fort James to cement my friendship with the Company. That is a thing which always had existed but it has, if that is possible, made me still prouder of the fact that I am the son of Sir George Simpson's servant and friend.