CATHEL SUTHERLAND MELVILLE (1914 - 1945)
Cathel Sutherland Melville, the son of George Melville and Annie Fraser and born in Murray Buildings, Golspie, was a butcher to trade and van driver/salesman working for Cameron Butchers, Kirkton who had a shop on Main Street, Golspie. He was well known as an active sportsman playing football to a high level in Sutherland and in the Army and was also a very proficient billiards player.
Cathel's Army records on enlistment show him to be in A1 medical condition, 5 feet 10 inches tall, 168 lbs weight and having black hair and brown eyes. He reached the rank of Lance Sergeant in the Scots Guards but was tragically killed in World War Two when on active service in Germany in 1945. He is buried in a war grave at Sage British Cemetery 13 miles south of Oldenburgh in Germany.
The Golspie War Memorial records Cathel's service to his country and his death and he is remembered on the Commonwealth War Graves Commission Roll of Honour. He was married to Georgina (Joey) Angus from Castletown where his widow and their son David continued to live until their deaths in 2002 and 2000 respectively.
At the time of his death Cathel was serving with the 2nd Scots Guards Infantry Division and was involved in the final push of the allied forces against the German defences in the area to the east of the Rhine and the most immediate target at this time there being Bremen. His unit was part of a multi regiment and international force fighting in difficult terrain caused in large part by the very wooded countryside making fighting difficult with ambush, mines and snipers a real hazard. His death came as his unit came up against fierce opposition and roads blocked by enemy forces, disabled vehicles and fallen trees.

David Erskine's book 'The Scots Guards 1919 - 1955 has relevant information for 5th and 6th April 1945 as on page 434 he states:
April 5
The 5th was chiefly notable for an ineffective low-flying attack by fighters on the Group's rest positions along the Nordhord-Lingen road at a moment when the Brens were being and by the 3rd Division clearing enough of Lingen area to make a further advance possible.
April 6
In the morning of the 6th the Group set off once more, crossed the Coldstream bridge, and moved out along the axis road by the Forest of Lingen towards Furstenau, with the object of seizing a crossing over the Hase. F Company in the lead almost immediately ran into considerable opposition from mined road blocks, S.P. guns, and infantry in the woods, and in trying to clear it the Company Commander, Major Kemble, was killed by a burst of Spandau fire, and Lieutenant H.R. Tempest wounded. The impracticability of further advance along narrow roads through thickly wooded country was at once apparent. The two-day battle in and around Lingen had given the enemy, whose courageous resistance led to their being described as fanatical, ample time to prepare their defences, and the nature of the ground made the tanks an easy mark to concealed guns at close range. Colonel Windsor-Lewis therefore switched the line of advance to a more northerly axis in an attempt to reach Lengerich, and F Company was with some difficulty extricated.
The loss of Major Kemble was a particularly heavy blow; he had been wounded and awarded the Military Cross when seconded to the King's African Rifles in the East African campaign, and had again been wounded, losing the sight of one eye, while serving with the Battalion in North Africa. A great personality and leader of men, he was leading the Company in the attack when he was killed; he was succeeded in command by Captain JS. Burn-Clerk-Rattray.
The new route was little better, and further opposition, during which the Group lost a tank and a carrier on mines, Lieutenant Mannock was wounded, and four enemy 88-mm. guns were knocked out by the Welsh tanks, led to the Group still being short of Lengerich at nightfall. The day had been typical of many there were to follow: a fighting withdrawal forcing frequent deployments and infantry assaults, in circumstances which allowed just enough mobility to warrant the use of tanks, over eighty of which were to be lost before the close of the campaign.
It is worth noting that this Scots Guards regimental history by Erskine states that Cathel was serving with 2nd (Infantry) Battalion Scots Guards when he died and this full description does not appear on correspondence sent to his widow nor does it appear on the gravestone in Sage where he is just given as Scots Guards. However, the temporary grave marker does given his unit as 2nd Scots Guards.
​Scots Guards units were working along with Welsh Guards in this operation as the allied force tried to make headway to Bremen initially by the Lingen to Freren axis and later when this route failed by a more northern route to Lengerich. A report of the fighting and progress from the Welsh Guards perspective give a very good picture of the terrible conditions endured in this advance from Lingen,
From Welsh Guards at War by Major L F Ellis, page 277, an account of the day from the perspective of 2nd Bn Welsh Guards:
6th of April. -
(2 a.m.) Am just going to bed after a long series of 'O' Groups. Our first task is to make a break-out from the Lingen bridgehead and then go to as fast as we can to Bremen, eighty miles away ... Some task! when letters from home talk of the war being over.
(8.15 a.m.) We are off.
(9.15 a.m.) Leading tank knocked out on a mine. R.E. are clearing the road.
(10 a.m.) Advance resumed. Leading tank fired on from the right - and missed - but the second tank hit and knocked out. Have sent the troop to the right in a flanking movement.
(10.30 a.m.) This was successful.
(10.45 a.m.) Leading tank of the troop who have taken over the lead has been knocked out by another bazooka and simultaneously hit a mine. There is another road-block in front with bazooka men and anti-tank gun manning it.
(10.50 a.m.) A severe stonking ... my scout car was hit and put out of action.
(11.15 a.m.) An infantry attack on wooded area to our front is going in - 'F' Company Scots Guards, supported by my leading troops and some artillery. This is Bremen in one day - an advance of two miles with three tanks knocked out to show for it! ...
(1 p.m.) The infantry are having bad casualties ... David Kemble, commanding 'F' Company has been badly wounded ...
(2 p.m.) Have just heard that David Kemble has died of his wounds/
(3.15 p.m.) No. 2 and No. 3 Squadron Groups are to put in a joint attack.
(5 p.m.) They have made their attack successfully and are now pushing on, with No. 2 Squadron leading.
(5.10 p.m.) Leading tank of No. 2 Squadron reported hit by a self-propelled gun.
(6.15 p.m.) No. 2 Squadron report two 88's in their area and our air O.P. reports that at least three more are a little farther on.
(6.30 p.m.) Leading troop of No. 2 Squadron have knocked out no less than three of the anti-tank guns.
(7 p.m.) They have knocked out a fourth.
(10 p.m.) In harbour just off the road. I have been lucky. I was sent for to an 'O' Group ... when I got back I found my own tank had been hit by one of the moaning minnies and my gunner, sitting on my seat, exactly where I would have been, had been very badly wounded."
Two officers nearby were also wounded and the crew of a Scots Guards carrier were killed.

There is no indication that the latter mentioned Scots Guards casualties included Cathel Sutherland Melville and it is more like that his death in action was at around the time and place where David Kemble, Commanding F Group, received injuries which lead to his death. It would have been at about that time that the F Infantry Company Scots Guards were in the vicinity of Baccum and came up against the hostile troops and blocked roads.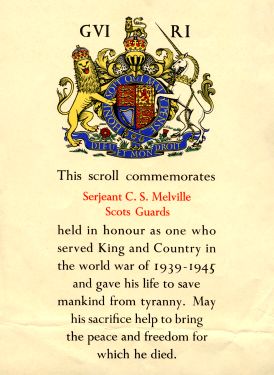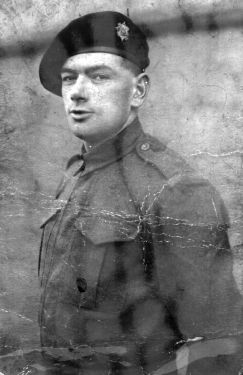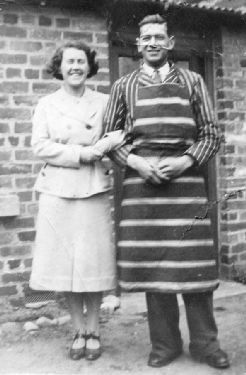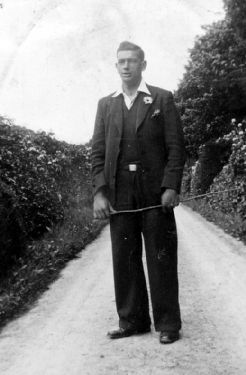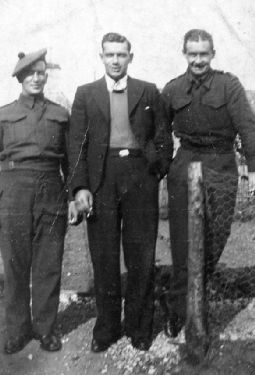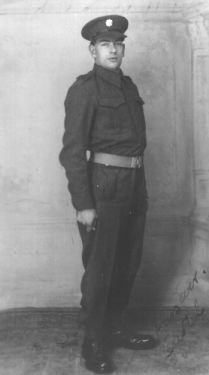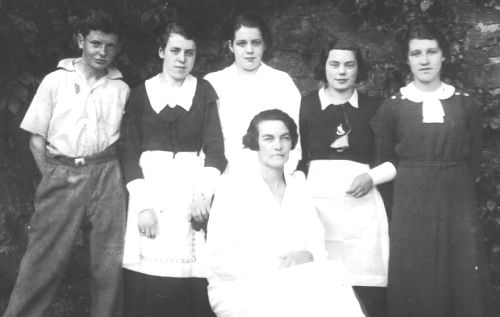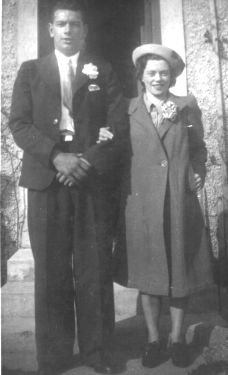 Joey Angus later Joey Melville second right in back row with Ben Bhraggie Hotel staff.
Above Cathel Melville and Joey Angus on their wedding day and below with Bestman (Cecil Melville) and Bridesmaid (Greta Angus).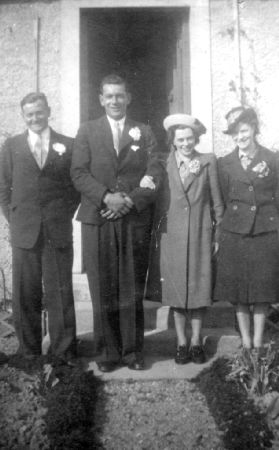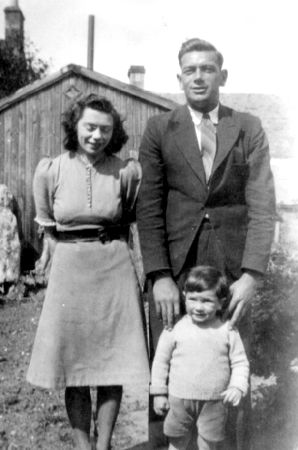 Joey and Cathel, with son David, on one of his leave periods back to Golspie.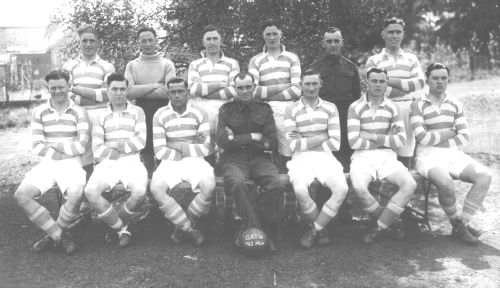 In above picture Cathel third left front row and below he is centre of front row in white shirted team.
Note the famous Sir Matt Busby is in the opposing team.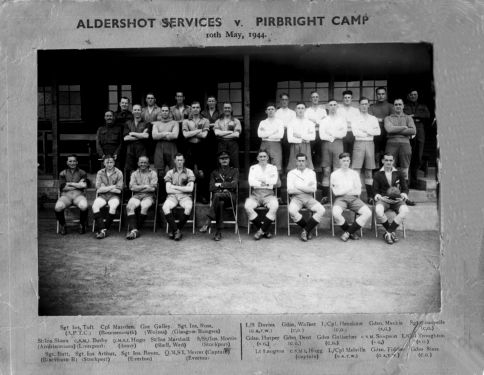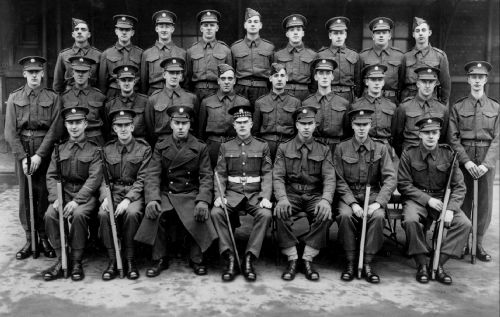 Cathel second left in the back row and in lower picture on extreme left of middle row.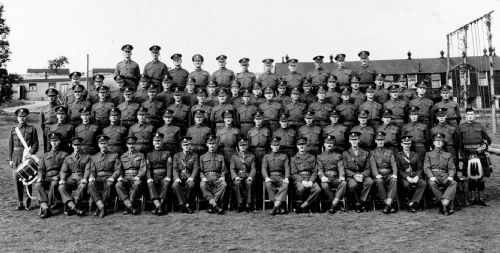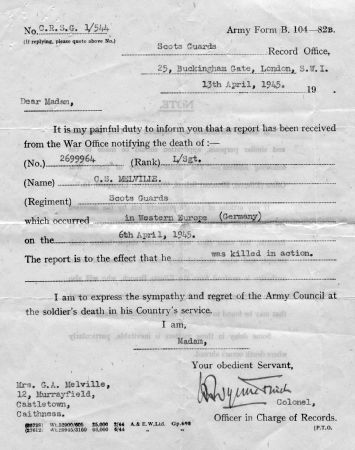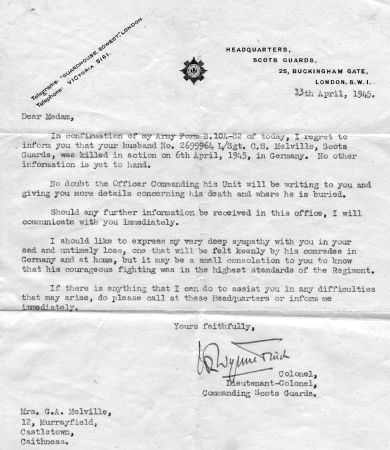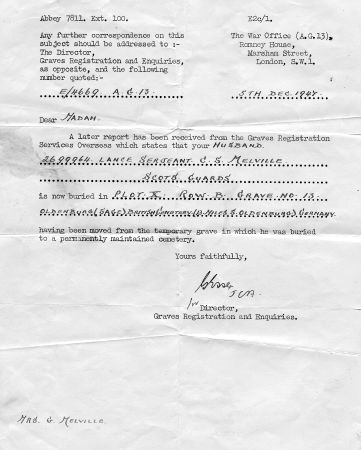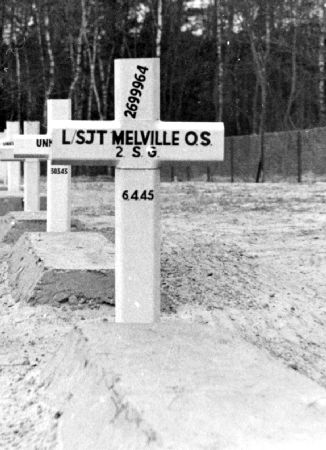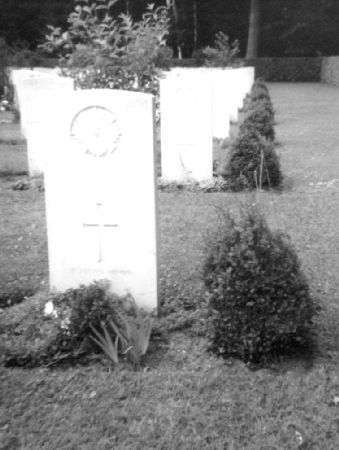 Temporary and Permanent Graves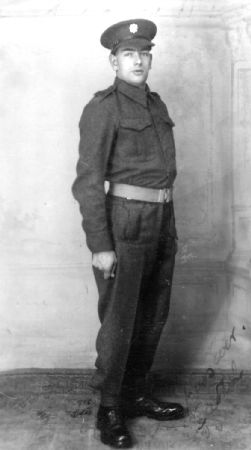 Aldershot Services v Pirbright Camp XI
10 May 1944
Cathel Sutherland Melville's prowess as a local footballer in Sutherland was transferred effectively to his life in the Army. He played regularly for camp and select teams and was rewarded with special leave to represent the Army on a number of occasions.
The photograph shows Cathel in the Pirbright Camp team when they competed against a team of professional footballers. Those professionals played under the name of Aldershot Services and had actually been recruited to the camp by the army as training instructors . This Aldershot eleven contained some notable players not least being Sir Matt Busby later to become one of England's most successful managers at Manchester United and England internationals Joe Mercer and Walter Boyes.
Teams as listed on the ceremonial photograph.
On the right of photograph Pirbright working along the back and then forward in rows from left to right:
L/S Davies, Gdsn. Walker, L/Cpl. Henshaw, Gdsn. Mackie, Sgt. Sharpells,Gdsn. Harper, Gdsn. Dent, Gdsn. Gallacher, C.S.M. Simpson,
L/ColTroughon, C.S.M.I. Hogg, L/Cpl Melville, Gdsn. Fidler, Gdsn. Sims.
And on the left half of the photograph:
Sgt. Ins. Tofts, Cpl Marsden (Bournemouth), Gnr. Galley (Wolves), Sgt. Ins. Ross (Glasgow Rangers),
Sgt. Ins. Sloan (Airdrieonians), C.S.M.I. Busby (Liverpool), Q.M.S.I. Hugo (Army), Sgt. In. Marshall (Sheffield Wednesday), S/St/Ins. Morris (Stockport),Sgt. Butt (Blackburn Rovers), Sgt. Ins. Arthur (Stockport), Sgt. Ins. Boyes (Everton), Q.M.S.I. Mercer (Team Captain and Everton).
Seated between the teams is Lt. Langton.