THE JOHN POPE MYSTERY
My quest to link all the Pope families in Caithness and Sutherland and to link those families to the Popes of Easter Ross and with a common ancestry have been more successful than I could ever imagine. Now the search is on to see if and where the last two or three Popes in the area connect into the large and, now worldwide, family of Popes. The mystery of one individual, John Pope, started in Sutherland but moved into Caithness and then to Edinburgh and Liverpool .
In September 1858 John Pope aged 29 years, from Durness, Sutherland in Scotland , an Agricultural Labourer arrived in Australia on the 'David McIvor' fromLiverpool having paid £1 for his fare. He indicated that his parents were John and Jessie (Pope not stated but the surname of other parents was also omitted from some of the records so omission may not be significant), he could read and write, he was in good health, a Presbyterian and that his relative in the Colony was his cousin Hector Melville[1]. This Hector and his family in Scotland were already well documented and clearly the Pope connection would appear to be the source of the relationship. However, initially extensive searching did not find this John Pope in Australia nor a suitable emigrant from Sutherland. Despite this the Sutherland connection seemed clear and also on board the 'David McIvor' were two other Sutherland immigrant, a George Sutherland[2] also from Durness and John Morrison[3], son of Robert and Ann Morrison, from Eddrachillis. George married, had a family and died in New South Wales . Attempts to link him to John Pope back in Scotland have failed and indeed there may be no link and just a coincidental journey on the same ship though that seems a little too much to accept. As for John Morrison, no search in Australia has been carried out but maybe a future examination of his activities might be useful.
Looking through the Sutherland records proved fruitless but a John Pope in Wick seemed worth following. This John along with his wife, Ann Sutherland, had a child, Janet, in Wick on 31 March 1856. Searches for their marriage eventually identified their marriage in Edinburgh on 8 April 1853 and John was given as a Blacksmith from Liverpool and Ann as the daughter of a School Teacher in Wick, Robert Sutherland[4].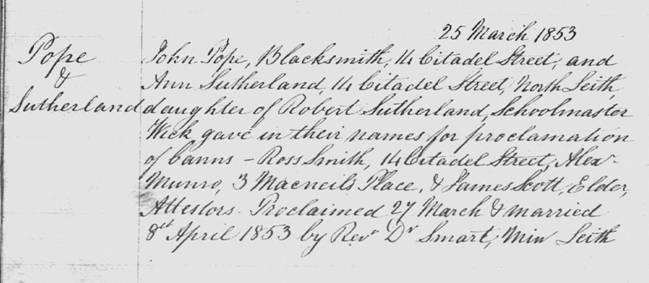 Both John and Ann were living at the same address in Leith at the time of their marriage, 14 Citadel Street . A marriage witness was also at this address, Scott Smith a Blacksmith subsequently found to be from Wick. Clearly a boarding house and known to Caithness folk as there was at least one other Caithnessian there amongst many residents in the 1851 census. Did John Pope join Scott Smith there from Wick or Liverpool or did John take Scott Smith there from Wick? Who knows and maybe it does not matter. It is a pity that John Pope was not in the boarding house earlier and at the 1851 census and equally unfortunate that he could not be found elsewhere. One possibility, but only a possibility, is the 'Mr Hope' in a boarding house in Wick harbour area in 1851, with no known job or place of birth listed, is our missing Pope with his name misinterpreted by house keeper or enumerator.
Further checking of the Caithness records brought the sad news that Ann Pope (ms Sutherland) had died in Thurso on 13 February 1857, her death being reported by her husband, John. There was no indication of where John went after that and no sign of the young Janet. It appeared the search for John had come to an end. But as often happens in Genealogy, the chance find of the birth of an earlier child, Robert Pope, recorded in the Wick OPR to John and Ann and the discovery of a Jess Pope, a female child of 4 years, living with a McKay[5] family in Durness awakened interest. Strangely this child was described as a 'Boarder' despite her young age but additionally the lady of the house was not only a Janet McKay[6] but she had the maiden name Pope!
Examination of the OPR entry for Wick revealed a quite ambiguous situation. It is as follows:

The ambiguous OPR entry, shown above, added confusion to the disentangling of this mystery. Was this Robert born in Wick or Liverpool ? Was the entry placed by Ann's parents? Who is the 'F. Church Minister' mentioned and was he in Wick or in Liverpool ? What it did do was to begin to tie together the story of a John Pope to Wick, Thurso, Edinburgh and Liverpool .
However, one of those questions was answered by an announcement in the marriage column in the John O' Groat Journal:
John O' Groat Journal 20 Jan 1854
At Liverpool , on the 6th, the wife of Mr John Pope, Blacksmith, a son.
A letter to the Liverpool Family History Society enquiring about the Rev Whyte brought an encouraging response. It appears that in the 1853 Gores directory there is no listing under Whyte but a Rev Verner Moor White minister of the Scotch Church , 1 Salisbury Street , Liverpool appears. This at first suggested that this could have been the gentlemen concerned and if so the family in Wick would not have been sure of the spelling and would also have been unaware of the forename. However, this individual's place in the story receded slightly when it was found that there was a minister in Canisbay, Caithness from 1845 to 1866 called Alexander Whyte. He was actually an established church minister and not Free Church, if that is what the F. Church in the entry referred to. Despite this difference it appeared possible that he was the minister referred to in the baptismal record though it was still puzzling why the name Liverpool follows the minister's name as well as indicating John Pope's place of residence.
The question of which minister was the one named on the Wick OPR entry remains but the fact that Robert was given in the newspaper announcement as being born in Liverpool made the probability of a Liverpool baptism more likely. The entry might have been precipitated by information given to the Clerk of the Wick Churchby the proud grand-parents or by the parents on a swift return to Ann's home town. The latter not being unlikely and accounting for the non statutory recording of the birth in England .
The baptism record in Wick was not confirmed by an equivalent record of any kind in Liverpool . There was no birth recorded in Liverpool for Robert, or indeed anywhere else in England , there was no death in Liverpool or elsewhere, Scotland or England , for a suitable Robert and the church records for the LiverpoolScotch Church are said to no longer exist. One had then to assume, now known to be wrong and more of that later, that Robert died in Scotland at a very young age and prior to statutory registration in 1855. This still left the question of where events took place.
The trail had gone cold but searching continued for Robert, even though it thought he might be dead, a Robert Pope aged 8 years in the 1861 census was found with Robert and Lillias Sutherland his grandparents and, of course, the parents of Ann Sutherland and wife of John Pope. Suddenly it became clear that John Pope had almost certainly placed a child with each side of the family. One with Ann's parents and one with what appeared to be a Pope relative in Durness. Could the latter also be grandparents or some other close family connection? After all Janet McKay, ms Pope, did have a son John around the time of her marriage to George McKay. Maybe this John was actually illegitimate and known as John Pope in everything except the official records where he had been given George McKay's name. He might even have been George's child but born or conceived at any rate before the marriage to Janet Pope. When the enumerator listed the family in Durness in 1851 he included a child John aged 10 years and though given as McKay this is not surprising as to all intent and purpose this child was a McKay in a McKay household.
Further information came to the fore with the finding of Peter McLean[7] and Catherine Pope living in Liverpool and having a family there. This Catherine was the sister of the Janet Pope in Durness who was married to George McKay. Not only does this family further add to the Liverpool connection but one of their children was Andrew McLean a Ships' Carpenter and working on the ship 'Star of the South' in Liverpool in 1859 who, in that year married, and went to Australia. Clearly if John Pope was in Liverpool in the 1850s and Andrew there at the same time they most likely knew one another being from the same extended family and both cousins of Hectore Melville in Australia . It would seem logical to at least speculate that John Pope's exact connection was that of nephew to Catherine McLean (MS Pope). So the question arises did he place his daughter Janet (Jess) with her grandparents or was she actually placed with her aunt in Durness? Could John Pope be the son of one of the siblings of Catherine and Janet or even the illegitimate son of one of those two sisters?
But what of young Jess Pope? Further searches of later census returns, marriages and deaths at first did not find her. She had disappeared from Scotland , was not found in Australia and initially did not appear elsewhere in Britain . In 1871 she would still have been only 14 years and yet she did not seem to be with the McKay family whom she was with in 1861 nor with any other family connected to those McKays. Alternative forenames and surnames and various combinations were checked through the records in the hope that she simply changed her name and that is simply what happened. While checking the Sutherland family researcher and Pope descendant Sam Higgins noted an extra youngster in the Sutherland home in Wick in 1871 but under the name of Sutherland. Jess or Janet Pope was here with her Wick grandparents. It seemed very likely that after the death of Ann Pope her daughter to John Pope was placed, by him, with the relative in Durness for safe-keeping as a 'Boarder' while he earned a living and at some time between 1861 and 1871 she moved from Durness to her Wick grandparents. Janet's brother Robert was no longer in the Wick household so this left one with the obvious next searches – those for John Pope and his son Robert. The initial searches in later census returns showed them to be absent from all records checked in Britain .
The question that arose was 'Did our John Pope travel to Australia and was he the John Pope who arrived in September 1858 from Durness, Sutherland and given as cousin to Hector Melville? It would account for his disappearance and the young Jess left in Durness. Additionally, nowhere in Caithness or Sutherland could be found a John Pope of anything like the correct age despite searches of the official records and examination of a very comprehensive investigation of the Pope families by George Sutherland Taylor, a Writer (Solicitor/Lawyer) in Golspie who was carrying out work for the Lords of the Treasury with regard to an inheritance claim. The Durness, Sutherland connection became quite clear with the finding of a 'second' John Pope in Australia .
There had seemed no resolving this question until the discovery on the internet of a website with information on this 'second' John Pope who married in Queensland in September 1862 and died in a remote part of Queensland in 1863 leaving a widow, a son John and a large number of Australian descendants. John Pope gave his occupation as Blacksmith at his marriage to Dorothea Gruber[8]. He said he was a bachelor. This would not be a surprising claim if he was, in fact, a widower from the other side of the world with hardly much likelihood of his new wife finding out his true status if indeed she did not know of the previous marriage.
John's untimely death in December 1863 of consumption was reported by his widow, Dorothea Pope (ms Gruber) who indicated that he was a Blacksmith and fromSutherlandshire , Scotland . It seems most likely that this John was the one from Wick, Thurso, Durness, Edinburgh and Liverpool but it does not answer a number of questions and principally what happened to young Jess Pope and was this without doubt John Pope who arrived in 1858. The age and other details are correct and though the time given in Australia at his death, by the widow, was given as eight years rather than in his sixth year there and the occupation given in 1858 was Agricultural Labourer rather than Blacksmith the balance of probability must that those Johns were one and the same person. Regarding the discrepancy in years in the Colony this seems a reasonable error or maybe unknown fact on the part of the widow and the occupational difference has been explained to me as due to the cost of travel to Australia . I am told that the cost of travel for a Blacksmith, being a tradesman, would be £5 more than for an Agricultural Worker and, of course apart from going for the cheaper option John Pope might well have been working on the land, or being doing two jobs, in Scotland when he decided to try his luck in the antipodes. It was common in Caithness and Sutherland for a rural blacksmith to also be a farmer or farm worker. Therefore he had the option of describing himself either way, and would choose the cheaper option, provided it would not affect his employment opportunity in Australia .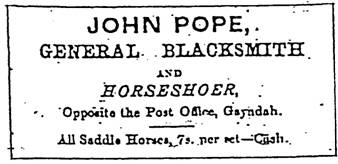 The advertisement for John Pope's Blacksmith Business in the Gayndah and Central Queensland Advertiser.
The search in Scotland for another John Pope goes on but it is now highly unlikely that another born at about the correct time exists. At least one is identified who claimed to be from Sutherland and was there for a traceable part of his life. Why there is no record of a birth can, I think, be explained by the recording of John as a McKay and why there is no record of the parents stated in 1858 on entry to Australia can be justifiably speculated upon and a suitable answer postulated. Regarding the parents on the entry to Australia record, it is most likely that the Jessie referred to was actually Janet Pope since the names Jessie and Janet were interchangeable in Scotland at the time as also evidenced in the alternating usage in young later records for young Jess Popes of Durness. The father given as John might be accurate being the father of the illegitimate John junior, a mistake in entry with John being entered in both places or an attempt by John Pope to hide his possible illegitimacy.
Initially equally baffling, as we have seen, had been the disappearance of young Jess (Janet) Pope of Durness after 1861 and what relationship she had to Janet McKay (Pope) as surely there must have been quite a close family connection. The trail went cold with no sight of Jess until the finding of a marriage record inNewcastle for a Jessie Pope revived interest. The certificate was ordered and here she was, the missing Jess Pope, Boarder from Durness and daughter of John Pope, Blacksmith. She married George Arthur Perry, an accountant in Newcastle on 3 January 1881. George was given as a widower with his address as Westmoreland Terrace, Newcastle and occupation noted as Accountant. His father, also George, was given as a Surgeon, deceased. Surprisingly Jessie's address is given as Montpellier Terrace, Sunderland . Mis-spelt on the certificate as Maltpelier but identified by family history contact Robert Morrison as this rather prosperous area of Sunderland . There is also on the certificate an interesting witness by the name of Robert Pope. Most likely the missing brother of Jessie and son of John Pope and Ann Sutherland. This puzzling and confused family add further to the inconsistent recording of their backgrounds by indicating Jessie to still be single in the 1881 census and in service as a Domestic servant in the home of John Maugham, Vicar of Mickley, at Mickley Vicarage but having an address inSunderland in January 1881. The census entry could be an error or possibly this couple, whose family connections seem to have become more dysfunctional as time went on, actually married without the knowledge of the Vicar with the couple living apart for a time.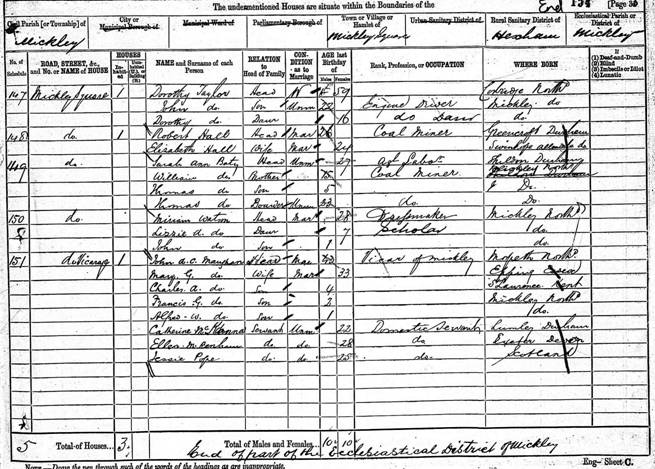 Above the 1881 census showing Jessie Pope as single and living at Mickley Vicarage.
Jessie Pope's marriage certificate showing she married some months before the above census.

With the finding of Robert on the marriage certificate the hunt for him before and after 1881 once again became a priority. The 1871 census search being unsuccessful in the United Kingdom records the search moved abroad. A Robert Pope of the correct age was identified in the United States of America , in Chicago, living with his Scottish uncle and aunt. The uncle's name being Alexander Sutherland, which coincidentally was the name of Ann Sutherland's brother. This is then surely must be the missing Robert who presumably returned to Scotland prompted to do so by bereavements at home and abroad. Robert and Lilias Sutherland, his grandparents, passed away but possibly and even more importantly his uncle Alexander in the US died and Robert's aunt remarried.
The finding of Jess/Jessie Pope and Robert was not the only interesting development in the north of England . In Durham a McKie Pope, born in Scotland , appeared in the 1871 census with his wife Jane[9] and two daughters and the death of a McKay Pope, in South Shields , was recorded for 1871. There was a McKay Pope born to Hugh and Johanna Pope in Durness and of the correct age to be this McKie/McKay. Having obtained the marriage and death certificates for McKay Pope he proved to be the son of the aforementioned Hugh and Johanna. He was recorded as Master Mariner but unfortunately the sea took the life of this mariner as he was drowned in a boat capsize while salmon fishing on 1st May 1864. This tragedy was not the only one to befall the family with the death, at a young age, of their two daughters.
Further information of possible significance quickly appeared after the finding of Jessie Pope in Newcastle . After much searching and then the invaluable assistance of Robert Morrison in the Newcastle area it transpired that a George Arthur Perry and a Jessie Perry, with ages consistent with the individuals being sought, were located in the London area. This Jessie, aged 34 years, died on 12th March 1891 in Marylebone, London and George passed away in 1934. A George also appeared in the 1891 census as a 39 year old widower and working as a Pawnbrokers Assistant in Deptford, London . This latter date is at variance with the death age in 1901 but it was felt possible that they were one and the same person. Unfortunately, the death certificates, as is typical or English recording, was inconclusive with regard to both individuals and so further research in both the North of England and London became necessary to solve this part of the puzzle. However, later information did indeed confirm this death information to be accurate and for the George Arthur Perry sought in connection with the Pope family mystery.

As often happens in family research a trail goes cold for a time and then an unexpected breakthrough occurs. In the case of the Perry connection this breakthrough came by way of my family website and the spotting of the 'John Pope Mystery Page' by a Perry family member Mandy Perry (married name Mandy Elhashash). Mandy's work on her Perry ancestors, whose lifestyle seems to have been as irregular as the Popes, added much new and interesting, indeed intriguing, information to this already complicated story.
Mandy confirmed that George Arthur, or Arthur as he sometimes preferred to be called, was living in Marylebone in 1891[10] with his son John Arthur Perry and various domestic staff and a sick nurse called Edith Youell. The entry gives a birth date of about 1853/54 while indicating the place of birth to be South America and this place of birth being the reason why a previous search for the earlier Perry's proved fruitless. Three other interesting points are raised by the census entry. One being the claim that (George) Arthur was married when he was actually a widower, another the appearance of a son, John A. Research revealed that this was the son of George Arthur and Jessie Pope providing a further generation for this Pope line and finally the Youell entry was in error giving the nurse as female but the name as Ernest. Later research indicates that the name should have read Edith Youell and that Edith had a brother Edward but not a brother Ernest. This Edith was married, after the death of Jessie, to George Arthur Perry and this marriage and the resulting family brought even more connections in Britain and Australia into the story. Principally from the point of view of this research the contact made with John Perry in Australia , direct ancestor of the George Arthur Perry and Janet Pope marriage. Strange to think that there are now large numbers of descendants of John Pope and his daughter Jessie in Australia and only now getting to realise the other's existence.
The birth information for John A tracked down by Mandy Perry was as follows:
John Arthur Perry, born 20 November 1882
Place; Lambeth, Surrey, sub-district or Norwood .
Father; George Arthur Perry, Auctioneer and Estate Agent
Mother; Jessie Perry formally Pope
The address; Oak House, Carson House, West Dulwich .
Registration signed by Jessie Perry on 29 December 1882
The marriage information for Arthur George (or George Arthur) Perry's second or more likely third marriage was as follows:
Place; The Wesleyan Chapel, Clacton on Sea
District; Tendring, Essex
Date; 14 September 1891
Marriage State ; Widower (inaccurate)
Occupation; Sanitary Inspector
Father; George Perry, Surgeon
Residing; Clacton, Essex
Wife; Edith Youell, Spinster
Father; Edward Youell
Residing; Clacton, Essex
Witnesses; George and Elizabeth Manning
Mandy Perry's direct interest in this puzzle becomes clear when she states that Edith Youell, whom George Arthur married in Clacton registration district of Tendring on 14 September 1891, is most likely her great, grandmother through her grandfather Maurice Perry, the third son of George Arthur from his second marriage or his third marriage if he was indeed a widower when he married Jessie Pope. The family was residing in the 1901 census[11] in Fingringhoe, Essex but John Arthur, the son to Jessie Pope, was still residing at the Marylebone address with the occupation of Sanitary Inspector's Assistant/Apprentice thus giving the impression he is probably working with his father.
The final official reference to John Arthur Perry in England appears to have been his marriage to Florence Stewart Andrews in Willesden Green, Hendon Middlesex in December 1903. The lack of further reference in England was mostly likely due to his emigration to Australia . Mandy Perry's mother indicated to her that John Arthur probably emigrated to Australia and a relative of one of George Arthur Perry's sons by his second, or possibly third, marriage confirmed this and that he had emigrated about 1911. This was later confirmed in official documents by the finding of reference to John Arthur Perry in an Australian Imperial Forces document in 1915 relating to the members of the forces enlisted for service abroad in WW1. This document gave his place of birth as Dulwich West, London , England and his address in Australia as Clayton Road , Clayton , Victoria . His next of kin was given as his wife Florence and it would appear that John Arthur had served in the army in Britain for two months before buying himself out for £1 from the 7th Battalion King's Royal Regiment. It is not clear how long John Arthur remained in the forces and whether he indeed did go abroad for combat. The word 'Discharged' is written across the top of the document and across it in red ink the word 'cancelled' appears. Those may be references to an early exit from the Australian Imperial Force or simply added at a later date after service was completed. Further research is needed to clarify this.
Mandy Perry gives some further background on her complicated ancestors in her description, in the footnotes, of her great grandfather's background and that of her grandfather[12]. Some of this information has been omitted from this report due to the newness of the detail but anyone with a right and good reason to know may contact myself or Mandy regarding this.
As has tended to be the pattern with this research the trail went cold for some month until, out of the blue, I was contacted by a John Perry from Warrnambool, Victoria, Australia, a direct descendant of John and Florence Perry who went to Australia early in the 20th century. John sent me much information regarding his Perry family in Australia on his family CD which included the pictures printed below. Only information relevant to this research and that of a non-sensitive nature is recorded here.
Who would have thought at the start of this research into the identity of 'little Jesse Pope in Durness' that pictures of her, her husband and her son would come to light.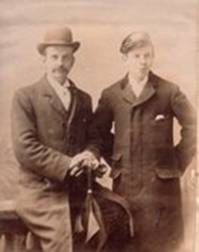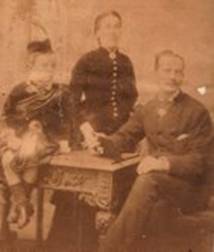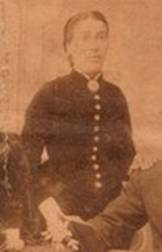 Left picture: George Arthur Perry and son John Perry
Centre picture: John Perry, Jessie/Janet Perry (Pope) and George Arthur Perry
Right picture: Jessie/Janet Perry (Pope)
Throughout this report of the John Pope Mystery many questions have been posed and answered and others have appeared but without resolution at this time. There were many questions associated with the Perrys both connected to the Pope marriage era and in later times. Those unresolved questions relating to the first and third marriages of George Arthur Perry were of indirect interest and taxed my enquiring mind but of greatest interest was the background to the marriage to Jessie Pope and later movements of their son, John Arthur Perry.
Still outstanding is the question of who exactly the Perry family was and what their history was before George Arthur Perry. They were in South America and elsewhere around the World but I wonder what were they doing there and exactly where were other family members born. Where too was George Arthur Perry's father throughout the time of the marriage of George Arthur and Jessie Pope exercises my mind greatly.
Jessie Pope's arrival in the North of England and working in a Vicarage similarly puzzles me. She might have followed a relative south, could have gone through her undoubted religious affiliations which are outlined in the memory in the appendix or she might have followed the fishing fleet. Herring workers and fishermen fromCaithness for decades moved up and down the east and west coasts and many settled in new areas. Was it a complete coincidence that Jessie Pope, for sometime in Durness and Wick and married in Newcastle , Northumberland be at the same time in this area of North East England as McKay Pope from Durness who was residing in nearby South Shields ?
What happened to Robert Pope after 1871 took some time to resolve. But this was one of the puzzles in the story that is at least was partly resolved. Information from Perry descendant John Perry, mentioned above, indicates that Robert was reported by John Arthur Perry, the son of Janet Pope and George Arthur Perry, to have become a seaman though at what rank unknown. This would account for Robert's not appearing in the British census and his ability to turn up at his sister Janet's marriage and disappear just as quickly. More crucially in memories written by John Arthur Perry he makes reference to the death of his mother's brother, Rob, at about the same time as her death. It notes this as in The Seaman's Hospital, Greenwich and of the same complaint, namely TB.
Most importantly, was John Pope, as suspected, the illegitimate son of Janet Pope, the wife of George Mackay of Durness? This now seems likely not least because Jessie/Janet Pope journeyed all the way from the London to Wick and then onwards to Durness to visit 'relatives'. Relatives who had to be very close for such an excursion to be undertaken while accompanied by her own son and without her husband for the latter part of the journey. This information is contained in the memories of John Arthur Perry reproduced as an appendix to this report. The memory also contains valuable information on the life and character of 'little Jess Pope' from Durness.
This story has still more time to run but as it stands it is incredibly interesting!
I have search long and hard for answers and been more than ably assisted in the task by Sam Higgins from Glasgow, a young and enthusiastic family history researcher and member of the Pope family. Without her assistance, that of Richard Snedden, a member of the Pope Melville families in Australia, Caithness Family History Society member Robert Morrison in the North East of England and Mandy Perry and John Perry, the direct descendants of George Arthur Perry we would have not progressed as far so successfully in the search for John, Robert and Jess Pope and their fascinating connected families.
---
[12] Mandy Perry says ;- George Arthur was said to be a charismatic man, with numerous stories many of a grandiose nature. He wore a velvet smoking jacket and a smoking cap…a hat with a tassle. Edith was a bit of an amateur artist, and there was a bohemian feel to the family.
I have established details for the children identified in the census, but I believe there to be 5 more children. One Uncle I remember is Uncle Les, he was interested in photography…he was younger than my Grandad, but I have not been able to find him yet….
Family history indicates Maurice Frederick Perry ( George Arthur Perry's son and Mandy's grandfather), born 1901 in Lexden, Essex, joined the Royal Flying Corps in WW1...underage. My Mum believes that he received a War pension, but I have not been able to find this, although I believe his no. to be SEF10 or SF10 (Used in his later name change)
Throughout his life he used various alias' including Paul Parry/ Paul Perry until changing his name by deed poll in the 1970's to Paul Parry Sefton. He died in approx 1978 in Richmond/Twickenham area.
He married my grandmother Alice Esther Emma Pitts in 1925 at Sissinghurst in Kent . They had one son…my father in 1928. They lived in France for a few years in the early 30's, Maurice being a chauffeur for the French Licentiate (?spelling). Shortly after returning to England Maurice and Alice parted although they did not divorce until the 1970's.
Maurice/Paul then had various failed business ventures, but also was a test driver for Ford.
My grandfather, had a long term relationship with a cousin Margaret Cecile, although they never married, my mother believes her to be related to Lord Hatton, but I have not established a link.
SOME FACTS CONCERNING MY MOTHER'S RELATIONS
(Received from John Perry, Australia)
John Arthur Perry
A letter written from Liverpool ( England ) dated 18th October 1853 and signed by John and Ann Pope with references to Alexander and Robert, brothers of the former. Robert was a sail maker, who was sailing for Sydney , on the ship "Lord Burleigh" of London . Alexander seems to have lived in Glasgow . The writers acknowledged receipt of half a barrel of herrings which their parents had sent to them. That they were devout Christians is attested by their comments on the prevailing evils "in this awful place where every kind of vice is carried on especially on the Sunday and every article is an extortion" (referring to the cost of living) and that cholera has broken Out, most cases being fatal. This letter was sent to me soon after my arrival in Australia and was, I believe some evidence about money in Chancery which has never been successfully claimed. From what I have been told there was a Major-general Pope serving in the East India Company who was a distant relative.
Though I have no direct evidence, it seems that the writers of this letter may have been my Mother's parents her maiden name being Jessie Janet Pope and she had a brother Robert. If this is so then the parents to whom this letter was addressed would have been her grandparents. My Mother was born at Wick in the extreme north of Scotland in 1857, being four years after the afore named date, and her brother Robert was the elder. In the appendix I will give a copy of a statement by her nurse (who later became my Father's second wife). I remember, as a very young child, accompanying my Father and Mother on a trip to Scotland by steamer from London to Aberdeen and by another steamer to Wick and Thurso where my Father had to return to London and Mother and I proceeded by fishing craft to Durness on the extreme N.W. coast passing through the stormy Pentland Firth, to visit her relations who lived there and were engaged in crafting and fishing. Their lot was hard and precarious.
My Father was very reticent about my Mother's and his own relatives and it seems that there had been great objection to the marriage and it was many years before some sort of reconciliation took place. My sister Dorothy told me about this and said that some cousin was the wife of the Mayor of Derby and had entertained King George V and Queen Mary when they visited that city. I remember an Aunt Rose and Uncle Tom who had remained loyal to him and also visiting them on one occasion with my parents. I also remember going on one occasion to a Salvation Army Festival at the Alexandra Palace about 1887 and seeing Blondin walking the tight-rope.
These impressions, are of course, somewhat hazy but my future Father-in-law, Mr Daniel James Andrews, told me that he was there and spoke about the soda case which my Mother had made, disagreeing with him. I also understand that my future wife and her sister Lily were also there.
In 1889 my Father, who was an Inspector of Nuisances for the St. Marylebone Vestry, was instructed to reside in the district, removed to 45 Townshend Road , St John's Wood from Tavistock Terrace Holloway. My Mother who had been ailing for some time with what was then called "consumption" but now known as T.B. was ordered to the Bournemouth Sanatorium, but the disease had gained too great a hold and she returned home as incurable. On March 12th 1891 she passed away and was given a Salvation Army funeral being interred in the Paddington Cemetery , Willesden Lane on 8th March. Her brother Rob died in the Seaman's Hospital Greenwich about the same time and from the same complaint.
My Father informed me that my paternal Grandfather, who was a doctor of medicine, was also a great traveler, visiting India , Australia and South America . My father was in Melbourne when he was 12 years of age (1869). He also went to the diggings at Ballarat. He told me that he could remember Collins, Elizabeth, Swanston and Flinders Streets. These were early days after the separation of Victoria from NSW and followed the Gold rushes of 1851. He was a good swimmer and when becalmed (the days of sailing ships) he had jumped overboard. When I went to sea he remarked that I was "a chip off the old bock".
(From notes by her nurse)
Mrs Perry was born at Wick in 1857 and war left an orphan at the age of six years, and at a very early age both herself and an only brother whom she much loved were thrown Out into the world to gain their own livelihood, the brother on the high seas and his sister in humble life upon the land; but they have both been protected in the storms of this life by our Father who has promises to be a Father to the fatherless. She accepted Jesus Christ as her Saviour in Scotland some 22 years ago, and from that time the love of Jesus has constrained her to go forward in a spirit of humiliation and love, scatter seeds of kindness in many parts of England and Scotland which praise God, from hundreds of living testimonies has brought forth fruit for the extension of God's Kingdom and glory. Mrs Perry was the means in God's hands of the salvation of her dear husband and her brother, for which they now both rejoice and praise God. Alleluia.
Her love and work for the Master, were, was she of ten said until the date of her death, that she preferred to be a "feet washer". Within the last five years Mrs Perry sometimes with her husband has been on board ship sailing from London to Aberdeen and other parts of Scotland; out in the open air; in the hop gardens; slums of London, at midnight with fallen sisters and with the drunkards, delivering the glad tidings and winning souls for Jesus Christ. Until about six years ago our dear Sister with her husband were members of the Methodist Chapel Charlotte Street, King's Cross when they became soldiers of the Holloway Ii Corps and was promoted Sergeant and Convert Sergeant Major. They were greatly blessed in winning souls. Captain David Leib, of Macclesfield, God used in bringing them to higher heights of God's love, Christmas 1889. Mr Perry received instructions from the local Authorities to remove from Holloway to Marylebone and on his removal was persuaded to take the superintendency of the Sunday School at the Congregational Church where he was much loved by the Pastor, congregation and the children of the school, but owing to his wife's illness and being unable to cope with the necessary obligations of the Church he felt after earnest prayer and guidance that he must resign that position, and although misunderstood both himself and our dear sister felt it was their duty to again join the ranks of the Army where God had so wonderfully used them for the salvation of souls. During the last two weeks of the closing journey of our dear Sister (as will he seen by her nurse's testimony) she was continually praying God morning and noon and night and many precious souls won for Jesus by God's guidance of the message delivered by her. Both our dear Sister and her husband are well known to Colonel Pearson and Bethshan Drayton Park and many others as having accepted Jesus as her Devine Healer the manifestation of His Divine Power as a result of simple childlike faith, Glory to God. Mrs Perry declined at the last to accept any early aid and although requested by her medical attendant her reply was, "I have exchanged my strength for the strength of Christ Jesus and I know that my Redeemer liveth, and that He shall stand again upon the earth. If it is His will to spare me, He knows the desire of my heart that I am willing to give my life to Him, and as I have hitherto proved in my own and my husband's experience that He is able to heal my disease. He can do so now. I take Him at His word. But upon the other hand if it is my Father's will for me to complete my journey here to enter into a haven of rest then from my heart I say, His will be done and I will not in His strength take any earthly aid to counteract His beloved will." She would have many precious promises read to her. Praise the Lord she spoke much about the General and the work of the Salvation Army and believed the time was not far distant when the Lord was coming and if she were spared she would do the little things for Jesus, be a feet washer in connection with the Army. She would at times make enquiries about her weak comrades and of the dear comrade …. who was introduced to her by Adjutant Levis at the Waterloo Sm previous to their departure for India who were on a farewell visit to Bournemouth .
The Rev H B Stone of the Abbey Rd Baptist Chapel, St John's Wood, who is filled with Spirit and winning many souls for Jesus Christ and was in attendance and was much loved by our dear Sister and received much comfort by the deliverance of God's message though him. Our dear Sister was aware that her journey was near at an end having made a request that her apparel should be given to the slums and other institutions after her promotion to glory. During the night she would at intervals be singing praises to the Lord and making request to her faithful attendant Edith and her husband to read God's promises and offering up praises to the Lord and on the following day March 12th she was fully resigned to her Father's will and rejoicing that she was safe underneath His Everlasting wings. There were several present including the sister of her husband whom she had prayed for for many years and whom we believe God's Spirit is striving with for the salvation of her soul.
She desired to lay upon the couch and with her dear husband's hand in her own and by her conversation made it known to him that she was near the gates of heaven as follows:- 1 — 1, 2 — 2, 3 — 3, 4 — 4, which was repeated by her and immediately answering 4, she said "Open the door. Let me in" and with a sigh said "Arthur, Satan tempts you to the last", but then with a smile she said, "I enter in the name of Jesus, through the blood, I see, It is the blood". She afterwards for a few minutes appeared in a slumber and opening her eyes uplifted to heaven, said "It is finished, Praise the Lord" when the spirit of our dear Sister took its departure into the Haven of Rest to be forever with the Lord.
Her dear husband found at once God's grace was sufficient and was enabled by God's help to rise and say "Then let us praise the Lord", and all present in the stillness of those few moments and in the presence of His Heavenly Father and the angels He was enabled to offer up praises to the Lamb of Calvary which he has continued to do so until the present time.
Our dear Sister was honored by God in the discernment of the Spirit and knowing she had the victory through Christ Jesus attacked Satan and his influences at work for which both her and her husband have been misunderstood and have been persecuted and evil spoken of, particularly by luke­warm Christians this however gave her greater encouragement to go forward for the realization of her soul was that there was no other great comfort to a child of God than to be like unto their dear Saviour, Who suffered patiently the persecutions, adversities, trouble and sickness and the denial of even His own disciples and Who did not go up to joy before suffering pain and not into His glory before He was crucified.
The previous day to her death she desired to have the Communion and that a few should gather together including the Captain and Lieutenant of St John's Wood corps in order that they might be brought in remembrance of the sufferings of her dear Saviour, her request was complied with and she was enable to partake of the ordinance and sing praises to the Lord and all present derived a great blessing. Although it was a desire she should enter into the ordinance and also Baptism she did not consider it was essential to salvation, but only a time of remembrance and thought that the reason our beloved General did not introduce it into the Army was the danger of many weak ones relying on a formality and building their hopes on a wrong foundation. "Jesus was the only foundation she rested on and proved the Author and Finisher of her faith".