A long search for the Pope families of the North of Scotland was in response to the finding of this Pope - Melville in Golspie Cemetery in the early days of the Melville family research.
The Grave of Roberta Pope in Golspie Cemetery
Roberta Pope, b. Aug 1808 in Clyne, Sutherland, Scotland, (daughter of Hector Pope and Isabella Matheson) d. 19 Jun 1857 in Brora, Sutherland, Scotland. D. Rpt. by widower. Pneumonia of 10 days duration. Buried Golspie Cemetery.
She married John Melville, 1832, b. 15 Jul 1813 in Tarbat, Cromarty, Scotland, (son of John Melville and Mary Sutherland) d. 10 Dec 1884 in Dalchalm, Clyne,Sutherland, Scotland. Occupation Cartwright.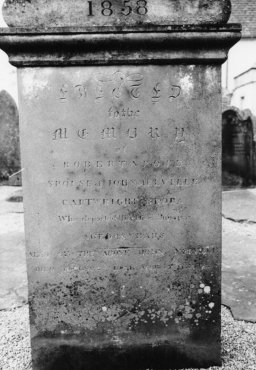 02/10/2012