William Henry Melville
William Henry Melville was born at Carlton on 19 August 1859, the son of William Melville and Ann McDonald and grandson of Henry Melville and Christina Gordon of Sputie, The Doll, Clyne, Sutherland. His father owned "Weerangourt". He was educated at Scotch College and graduated from Melbourne University as a solicitor, and after some years returned to Hamilton and set up his business.
William married Minnie Florence Scowcroft at Grange Burn, Hamilton , Victoria on 2 April 1890. They had six children, two daughters and four sons. Asreported in the Hamilton Spectator they were:
Annie Olive born 30 August 1892
Mary Pearson born 24 August 1895
Henry Douglas Gordon born 29 August 1896
Twins Archibald Peter and William MacDonald born 2 September 1901
All were born at 'Braeside', Hamilton.

In business, when James Thomson of Hamilton , Victoria was reducing his holdings in 1909, William purchased a total of 1342 acres which all fronted the Louden Young Road . It seems he leased the land out as Henry Melville Turner was the lessee from 1909 to 1923. Henry was a cousin and he was born in Scotland the son of William Melville Turner and Euphemia Melville who came to Australia aged 21 years. At the time William Melville purchased the land on Louden Young's Road, Henry Turner was managing Trawalla Station near Beaufort for Admiral Bridges from 1894-1916. He married Bertha Glass in 1895 and had no family, and died in Melbourne in January 1936.

William Melville was well known in Hamilton for his generosity and contribution to the well being of Hamilton . He was Mayor of Hamilton in 1898 being unanimously elected for one year after a tied vote between two other nominated candidates. He became a councillor there again in 1906 in an effort to promote his interest in developments in the town. Through him Hamilton Golf Club acquired its proprietary interest in its links. He was president of the fire brigade for 20 years, assisted in the foundation for the rifle range, the miniature range, the management of the bowling club and was president of the Hamilton Band. Melville Oval is one of his legacies. An article in the Hamilton Spectator in 1976, on the History of Melville Oval, emphasised his contribution to the town of Hamilton .

'For the record, William Henry Melville pos­sibly did more for Hamilton in 20 years than most of our best-known citizens did in a life­time.
Melville established a law firm in 1889 in Thompson St . next to where Napier Auctions now operate.
He was a keen sports­man and was among Hamilton's leading cricketers, bowlers, tennis players and golfers
There have been few men of wealth before or after who donated their time and money to the various sporting organisa­tions as this generous sportsman.
Melville received great satisfaction and pleas­ure from arranging visits to Hamilton of sporting teams of a State and National level, which en­abled the Hamilton dis­trict the chance of see­ing these well-known per­formers in action.
His hospitality in en­tertaining these teams at his home "Braeside" be­came legendary.'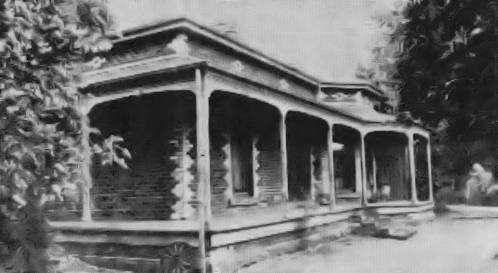 'Braeside' as it was in 1976 after it had been made into flats. It was the home of William Henry Melville where he entertained visiting sporting celebrities. It was also here that William established his own private cricket wicket and nets where he would spend many hours developing his batting technique.

'Amongst the famous teams that came to Hamilton was the English Test team in 1899 led by their captain Andrew Stoddart. As reported in the Spectator article of 1976, the condition of facilities at that time hardly justified such an occasion and William Henry Melville decided change this state of affairs.
'Bill Melville had the foresight to realise the district needed much better sporting facilities if it was to expect future visits from international teams. There was no such thing as town planning in those days, and when Melville began campaigning for 'breathing space' within the borough's limits he ran up against opposition.
But Melville was a man who did not give in easily. Even though it cost him a considerable amount of money, he went ahead with his enterprise, planning ability and imagination, to convince the people that such a sports ground was needed. The site he selected had long been an eyesore to Hamiltonians.'

The site to be developed had become over-run with desirables and turned into a dumping ground for Indian camps, hawkers and vagrant cows. Those elements had followed on from even earlier misuse of the area by Aboriginals, its use as a goat run and its designation as a rather poor market square .

'In 1908 Melville put his plan into operation by forming a committee to carry out the draining and levelling of the area. In the following months this land was converted into a picturesque scene with the only reminder of it once been an ill-conceived market place, being the name of the boundary street on the northern side, Market Street .
Each day when Bill Melville would leave his home 'Braeside', at the east end of Gray St . , he would have his cab driver take him to the office by way of the new reserve, where he would carefully look over the work being done.
By September 1909, the work was completed. It had cost a little more than £5000 of which £2000 had been raised by a loan and the further £3000 from generous members of the community. This included the bandstand which still stands there, at a cost of £280 and the fence and gates £632.
The official opening was to be a red-letter day for Hamilton and weeks of planning went into making sure the opening would be a day Hamilton would not forget in a hurry.

It would appear that the official opening of the Melville Oval, a two day carnival, was indeed a momentous occasion not least because the actual opening event was preceded by an Australian Rules Football match on the new ground. No less a team than Victoria Football League side South Melbourne came to play against a combined local team. The visitors ran out easy winners but this did not disappoint the biggest crowd Hamilton had seen.

On the day of the official opening William Henry Melville was acclaimed by a large crowd and by Mr John Thomson MLA who was standing in for Victoria Premier John Murray. Mr Thomson declared, 'The people of Hamiltoncan thank Mr Melville for having such a fine recreation reserve'.

The Mayor of Hamilton supported those remarks and presented William with football used in the match against South Melbourne .

Good use was made of the Oval and William Melville's contacts in sport encouraged leading sportsmen to visit. William, himself, was a member of the MCC, which I guess was the Melbourne Cricket Club and not the English equivalent, and this resulted in the Melbourne Cricket Club with some of its famous test players coming to Hamilton. William's skill and his captaincy, however, did not prevent his Hamilton team being very well beaten.

Some months after the opening of the Oval the Hamilton 's civic leaders officially designated this new facility Melville Oval, a name by which it is known to this day. The popularity of the venue continued to attract sporting people and occasions with many notable crickets and tennis players playing there up until World War 11. Unfortunately this break lead to a run down in the facility and many events moved into the bigger cities of Australia .

It would be nice to say that W H Melville spent many a year playing sport on the reserve he helped turn into a fine sports ground, but this was not the case. This grand old sportsman retired from his profession in 1914 and moved to Melbourne where he lived at Malvern until his passing in 1925.'(Noted here as 1925 and in other record as 1926).

During World War 1 William was involved with the YMCA and it was this involvement which eventually saw him move permanently to live in Melbourne . Melbourne YMCA requisitioned him for field service work. However, as the Spectator reports, this was not the end of Melville interest in Hamilton . William's son Don Melville returned to Hamilton to become a partner in the old firm. In 1976 the firm of Melville, Orton and Lewis was still going strongly.

William Henry Melville died on 8 May 1926 in Melbourne . His lengthy obituary in the Hamilton Spectator of 11 May from which I have calculated his death date, hopefully accurately, give even more detail of his life and activities than noted here.
Byaduk Pioneers with William Henry Melville seated front right.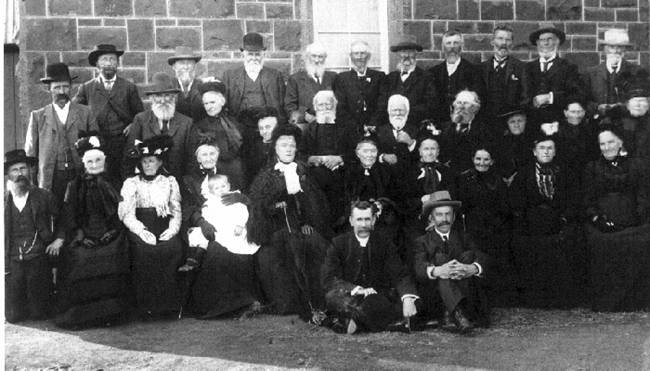 Byaduk Pioneers photographed at Byaduk & District Pioneers' Day, 27 Mar 1907 Byaduk Methodist Church ( Now Uniting Church ), Photographer: G. EARNEY. Organiser: Mr W H MELVILLE "Weerangourt".
Picture above and reference below from the Byaduk Website:
'W. H. MELVILLE
William Henry MELVILLE 1859-1926, son of William MELVILLE 1829-1897 "Weerangourt" and Ann McDONALD 1835-1859. Ann McDONALD, b. 1834 Golspie, Sutherlandshire, Scotland, dau of John McDONALD and Charlotte FLEMING died in Victoria in 1859. William MELVILLE Snr. married a second time to Annette Margaret BAYLES 1842-1920 and they had seven children born at Byaduk. William Henry MELVILLE Jnr. was a Solicitor and Philanthropist and he married Minnie SCOWCROFT 1860-1940 (dau of Capt Hugh Arthur Fender SCOWCROFT and Marion 'Minnie' PEARSON) at Melbourne in 1890 and they had 5 children born at Hamilton from 1892 to 1901. External link to the family of William MELVILLE 1829-1897 in Sutherlandshire , Scotland .'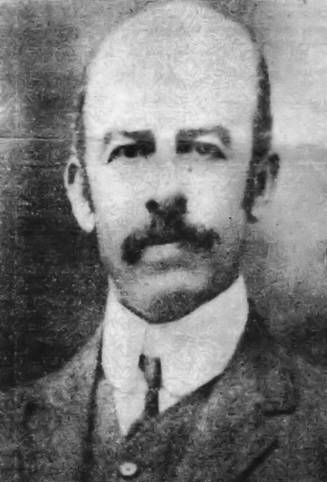 William Henry Melville
'The best remembered name in Hamilton , Victoria 's past as his sporting ability and generous support to all sporting organisations made his name legendary. Testimony of this hangs today on a wll at the MelbourneCricket Ground in the form of a special tribute to the man.
It reads; "In 1903 the MCC bowlers made Hamilton their first halting place where they played Hamilton on the pretty little green at 'Braeside', the property of Mr Melville, one of the biggest-hearted sportsmen to be found in any part of Victoria . Fortunate indeed is the district that possesses such an enthusiastic sportsman as Mr Melville. In the afternoon our host out-Melvilled Melville by presenting valuable trophies to be played for and which were won by the Hamilton boys after some exciting finishes."
Small wonder that State cricketers and bowlers were keen to accept any invitation from Bill Melville to play in Hamilton .' (Hamilton Spectator 13 January 1976)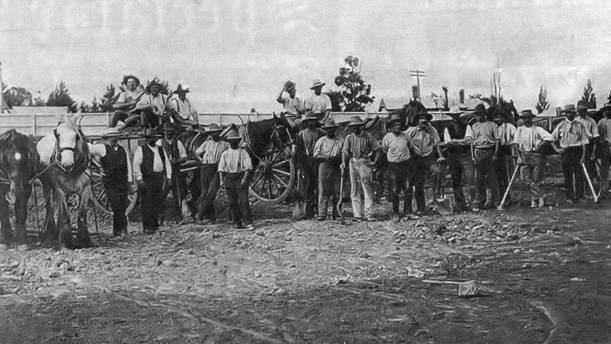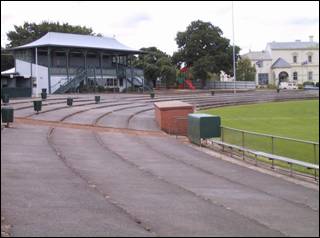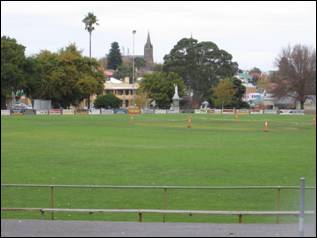 Top picture: Levelling the surface in 1909 for the creation of Melville Oval.
Next picture: The Melville Oval in 1915.
Above: Grandstand and playing surface at Melville Oval, Hamilton.
---
08/01/2009